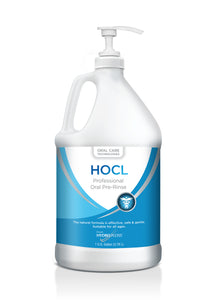 Designed to be used in the operatory before treatment for disinfection.  This powerful but gentle pre-rinse disinfects the mouth to create a safe environment for you and your patient. 
HOCL Pre-Rinse is formulated with HOCL (Hypochlorous Acid).  HOCL is the same active component produced by our own white blood cells produce to fight infection.   It works by attacking pathogens and breaking down their cell walls.  
Our HOCL Pre-Rinse provides a pure, stable and pH balanced HOCL solution that helps reduce the bacterial load but is 100% safe to use on skin, around the eye, in the nose, and in the mouth.  It is non toxic and won't irritate delicate tissue. 

All natural - just sea salt and water

HOCL is the same substance found in our body's white blood cells

Immediately disinfects the mouth

Prevents and treats gingivitis

Soothes and heals irritated gums fast

No staining or sticky residue

100% safe for adults and children

Premeasured - one pump per use
1 Gallon

Purchase by bottle or in cases of 2
Not available in stores
Made in the USA